Supagard and Glasgow Taxis join forces to keep passengers Separated, Sanitised, Safe.
Posted by Supagard on 26th May 2020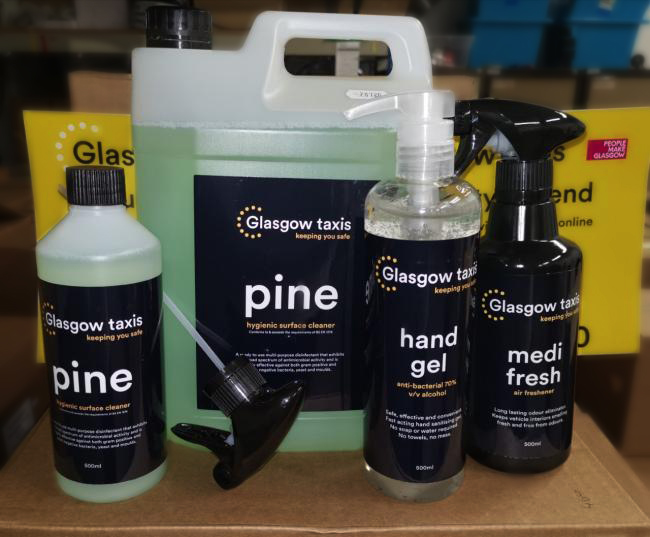 For over 30 years, Glasgow based Supagard have been the UK's No.1 for protecting your car, but amid the coronavirus outbreak, we're proud to be assisting Glasgow Taxis to protect their passengers with a new campaign to provide the safest public transport experience in Scotland.
"Separated, Sanitised, Safe" is an exclusive partnership with Supagard which aims to provide a safe, clean and fragrant environment for Glasgow Taxi customers by giving all their drivers free access to a Supagard Sanitisation System ozone generator. This vehicle cleaning unit completely sanitises the interior of a taxi in just 15 minutes and as all Glasgow Taxi vehicles are now partitioned, this new campaign will reassure customers that Glasgow Taxis are their safest and cleanest taxi transport option.
When activated in the taxi, the Supagard Sanitisation System sterilises the interior to 'medical grade' levels by converting the oxygen in the cabin to ozone, a powerful natural disinfectant generated by the device's advanced scientific technology. The ozone penetrates every part of the interior and renders viruses inactive, killing more than 99% of germs and bacteria in the cabin and air conditioning system. It also purifies the air and leaves a regenerated and deodorised environment, making the taxi a safer and healthier place for the driver and passengers.
After treatment, any remaining ozone is converted back to oxygen by the device. It doesn't stain, leave residues or damage the materials used in the interior, so it's the ideal answer to sterilising and deodorising any vehicle to the highest possible standards.
Glasgow Taxis drivers can also access a new Supagard Protection Pack containing a range of high strength taxi specific cleaning products, including surface cleanser, hand sanitiser gel and medi fresh air freshener which can be used throughout their shift.
The new Glasgow Taxis Vehicle Sanitisation Unit started cleaning taxis this week and all taxis are being provided with signage to promote the 'Separate, Sanitised, Safe' campaign.
A message from the Supagard team "We know people and businesses will be looking for reassurance and a new level of service in the months ahead and believe our partnership with Glasgow Taxis will enable them to deliver on customer expectations by providing the safest and cleanest taxi transport option."