We've all experienced those nasty marks and scuffs on the paintwork of our cars that just won't budge. Supagard came up with a solution to this frustrating problem for all car lovers - and the process couldn't be easier. This Scuff Mark Remover kit contains 2 products - Wipe Away and Paintseal Cream. These products work together to help you get rid of stubborn marks and stains with ease, keeping your car in showroom condition.
Method:
First of all, we would recommend giving your car a thorough wash with our pH Neutral Shampoo so that you are working on a clean surface with these products. If you need a more in depth tutorial of how to do this, check out our Shampoo Aftercare Blog Post - https://www.supagardshop.co.uk/blog/summer-aftercare-shampoo/
Make sure to dry the paintwork with a chamois leather or microfibre cloth, especially the areas you are treating with the Scuff Remover Kit.
Shake both tubes of product before and during use, then on the stained area apply Wipe Away in a swirling motion across the paintwork. To do so, squeeze the tube until the solution appears on the sponge. After it has been worked into the exterior of the car, wipe off with a clean microfibre cloth.
Wipe Away contains an aluminium crystal compound. This basically means that the aluminium crystals in the solution rub across the surface when applied and remove the contaminant on the surface, removing it completely from the paintwork.
It can be used to remove things such as marks off of plastic and rubber scuff marks on bumpers. Gently work on the problem area and it will remove it very easily.
Next, use the same method with the Paintseal cream on the car, however leave on to dry for slightly longer. When it has set into the paintwork, gently wipe off with another clean microfibre cloth. This product adds an additional glossy, silky finish to the car exterior and additionally, helps keep it cleaner for longer.
The formula for these products have been designed to work perfectly together and ensure that the process is as easy as possible for the detailer. It is so effective that it can even remove permanent marker from paintwork!
Buy your Scuff Mark Remover Kit now: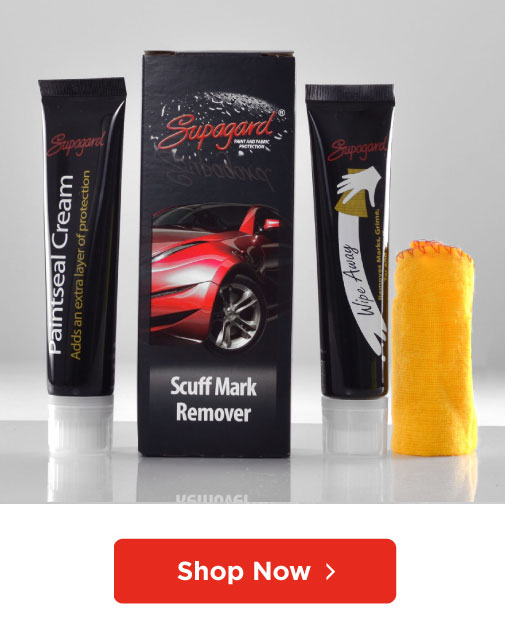 If you require any extra microfibre cloths, follow the link below: